Tools like parental controls can help to protect your children from accessing inappropriate content, but you can't check everything they see on the internet. You need to help them avoid unsuitable content, and cope with it if they see it. The first step is to talk to them about it.
Most of these disturbing websites are not 'illegal' which means that they will remain online and it is up to a parent to monitor and manage. You would not feel safe allowing your child to wander aimlessly through a large city, alone and in the middle of the night so remember that the internet is like a large city, full of good and bad and a place that a child needs to be supervised.
What can I do when I recognize the websites with innapropriate content?
To inform the appropriate administrator directly in application (web browser, social networks etc.)
To inform the police or other relevant institutions
To use the software tools to block the inappropriate content (parental control)
To speak with the children about that topic
It is possible to inform the application manager about the innapropriate content in common applications (Google, Facebook etc.). Usually you can find the botton in the application settings.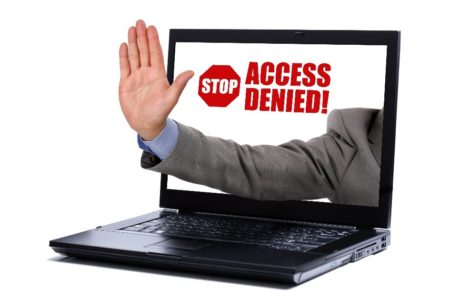 You can also inform the police office about the inappropriate content by the detailed specification of the source.
Parental controls are software or device-specific options that allow parents to monitor their child's internet use. They prevent children from accessing inappropriate or unsuitable content online. They can be implemented within your internet service provider, search engines, video streaming sites and more. The most often tools oft he parental control on the Internet is:
Set up the parental controls for your network on router
To use the applications monitoring the child' s internet time
Restrict internet access on my wifi
Put the parental control on web browsers
If you are trying to avoid visiting problematic sites from your computer  not only for children, but also for employees  – some topics can distract them from work – typically those with pornography, extremist issues, , you can use several types of protection methods.
What program, filter, or add-on is best for restricting access to these inappropriate sites?
Anti-Porn
One of the best known and most widely used programs to prohibit pornography visits to the web. This is mainly due to its easy maneuverability and easy adjustability. The application automatically recognizes and marks content as erotic and immediately forbids access to that side. It also has a database of several thousand malicious websites, which is regularly updated.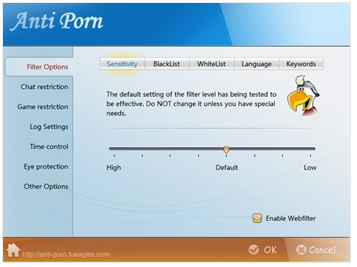 K9 Web Protection
Another filter program to protect against the pitfalls of the Internet. Both a malware protector and an inappropriate content filter can work. It is free and can be used on both Windows and Mac OS X. Also, this program is easy to set up and operate. Malicious sites are categorized by type for pornographic, social networking, violent content, etc.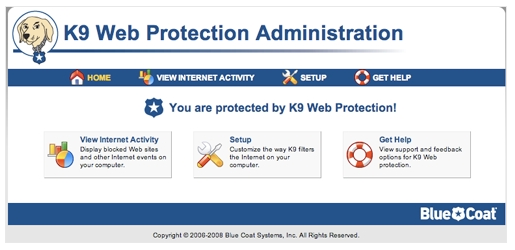 Kurupira Web Filter
Not well known and widespread program, but it can handle its work very well, yet in a pleasant and beginner-oriented environment. The advantage is also a free application license. To access the program, you fill in a password so that only knowledgeable passwords can set filters.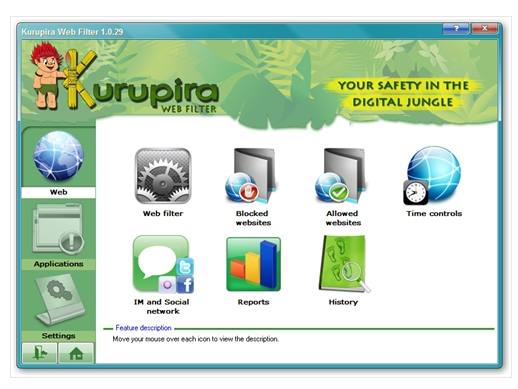 iWebFilter
The application contains a wide database of problematic pages, words, and content, and of course, the user can extend it. Blocking can be set for both web browsers, Instant Messengers (IM) and email clients and other applications. There is also an internet access schedule, data transfer limit and detailed log of events.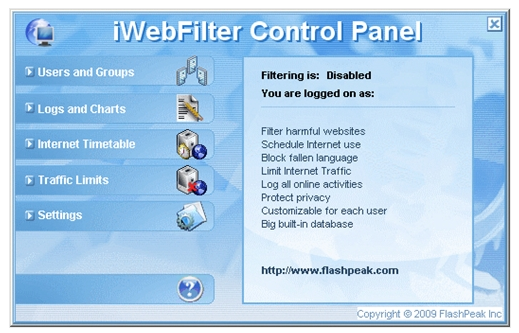 In the event of encountering objectionable content, you should not continue watching it, but turn off the screen or leave the screen. The adult should not reprimand the child for browsing in inappropriate places on the Internet. It is not for what is displayed on the Internet. If you find that your child is watching pornography, violence, etc. intentionally, you should think about the cause. It is necessary to take into account age and event or seek professional advice, e.g. in the relevant pedagogical-psychological counseling center.
Insafe and INHOPE work together through a network of Safer Internet Centres (SICs) across Europe – typically comprising an awareness centre, helpline, hotline and youth panel  Hotlines, dedicated to the removal of illegal online content), operate Safer Internet Centres (SICs) in 30 European countries in the drive to keep children and young people safe online. Through a range of services, SICs respond to the latest online issues, helping to promote the many opportunities the online world offers, while also addressing the challenges.
How to report inappropriate content?
If you or your child come across any  inappropriate content which incites violence or hatred, here is what you can do:
In case of illegal content (breaking the law) you should mainly contact the police
Contact the organizations/institutions focused on internet safety (f.e. SICs: https://www.betterinternetforkids.eu/web/portal/policy/insafe-inhope) to help you with the content removal/blocking
Report to the administrator of the page/platform
Change the settings in your computer
Contact the experts to help your child with the traumatic situation
Talk with your child
Keep calm
Here are quick video how-to guides to set the right settings on the most popular platforms and other things you can do:
Facebook Privacy Checker
https://www.youtube.com/watch?v=wN3jz2Mv_ME&feature=emb_title
YouTube Restricted Mode
https://www.youtube.com/watch?v=XuXnatkASTQ&feature=emb_title
Google SafeSearch
https://www.youtube.com/watch?v=LK-MIwjQz20&feature=emb_title
Security and spyware
Some  computers especially in the public places (library, coffee-shops, schools etc.) might have some monitoring software that can capture the screen and thereby poses a threat to sensitive information on the screen.  These PC surveillance tools can monitor all kinds of activity on a computer. Anti-virus software and firewalls do not fully protect the system against the majority of spyware and privacy threats. Spyware is commonly bundled with software downloads, attached to e-mails, or transmitted through networks so it appears to be legitimate software, but once installed it can be nearly impossible to detect and remove it without the help of a dedicated spyware removal tool. Spyware protection and prevention are essential to defend privacy from prying eyes and virtual trespassers. That measures can also be installed to the private computers to protect you and your children from the inappropriate content by monitoring the whole activity online. The examples of those tools you can find in the text above.
Here are some quick tips for identifying dodgy sites and apps:
Check that the URL for a website is the main URL you normally use to access that site.
Be wary of any emails from people you don't know. If in doubt don't click on links or open attachments in emails.
Check that the branding is accurate — that it appears the same across all platforms — and the logo is not blurred.
Are there typos on the website or in emails asking you to log in and update your details? If so, then it's likely to be a scam.
Check your app store for reviews of apps before you download them. If there are lots of users and good reviews, it's unlikely to be a scam. If there aren't any reviews, do some more online research — scams usually get identified fairly quickly and people often post online about them.
Is an app asking you to input lots of personal information or provide your login details for any social media accounts? Then, it's likely to be a scam.
Personal information
The other issue concerning the inappropriate content should be also publishing of your personal information. Everybody can see and download whatever you publish online and use it in other context or misuse the information.
Choo (2008) outlined three categories of organized groups in cyberspace:
Traditional OC groups which make use of ICT to enhance their terrestrial criminal activities;
Organized cybercriminal groups which operate exclusively online; and 
Organized groups of ideologically and politically motivated
individuals who make use of ICT to facilitate their criminal conduct.
These forms of OC look to exploit cyberspace in a number of different ways by committing a wide range of crimes that may be conducted or enhanced by computer and digital devices.
The most important type of information to keep private is personally identifiable information (PII).
Definition
According to the U.S. General Services Administration, PII is "Information that can be used to distinguish or trace an individual's identity, either alone or when combined with other personal or identifying information that is linked or linkable to a specific individual."
Some examples of PII are:
Names: Your full name, your maiden name, and your mother's maiden name
Personal ID numbers: Your social security number, driver's license number, passport number, patient ID number, taxpayer ID number, credit account number, or financial account number
Addresses: Your street address and email address
Biometrics: Retina scans, fingerprints, facial geometry, or voice signatures
Vehicle ID or title numbers
Phone numbers
Technology asset information: Media Access Control (MAC) or Internet Protocol (IP) addresses that are tied to a certain individual
Why you should keep your personal information private? Securing your personal information can help you to prevent identity theft, protect your financial information, avoid being robbed, protect your employability and business's reputation and much more.
Here are some tips so you can keep your accounts secure and stay in control of your online privacy. You can also read more about how to protect your identity.
Do a privacy check-up by going through the settings for all your social media accounts
Set strong passwords and update your old ones
Don't share your passwords
Make sure you download and install new operating systems and software on your phone, tablet or computer as soon as they become available.
Don't add people on social media that you haven't met offline
When websites or apps ask for your personal information, double-check they are legit
The European Commission adopted a recommendation on measures to effectively tackle illegal content online. Issues such as incitement to terrorism, illegal hate speech, or child sexual abuse material, as well as infringements of Intellectual Property rights and consumer protection online, need a strong coordinated EU-wide approach. The approach is fully aligned and consistent with the Copyright Directive, including widely debated aspects of the liability of online platforms. It is also fully consistent with the revision of the Audio-Visual Media Directive.
Online platforms need to be more responsible for content governance. The recommendation proposes a common approach to quickly and proactively detect, remove and prevent the reappearance of content online:
Clearer 'notice and action' procedures
More efficient tools and proactive technologies
Stronger safeguards to ensure fundamental rights
Special attention to small companies
Closer cooperation with authorities