Given the potential security risks of using apps on your smartphone, you're probably wondering how you can better protect yourself and your privacy. The following are some tips on what to consider when using apps on your smartphone:
In the past, serious safety deficiencies have been identified in various apps. Subsequently, an attempt was made to remedy these deficiencies by making appropriate adjustments. For this reason, for example, it is advisable to always use the latest version of WhatsApp Messenger.
To prevent copyright problems, you should refrain from using images that you do not own as profile images.
Tip
You can also use WhatsApp's privacy settings to limit the visibility of your profile picture: Just open WhatsApp and tap "Settings". Then tap "Account", select "Privacy "and change the "Everyone" setting to "My Contacts" or "Nobody" for Profile Photo.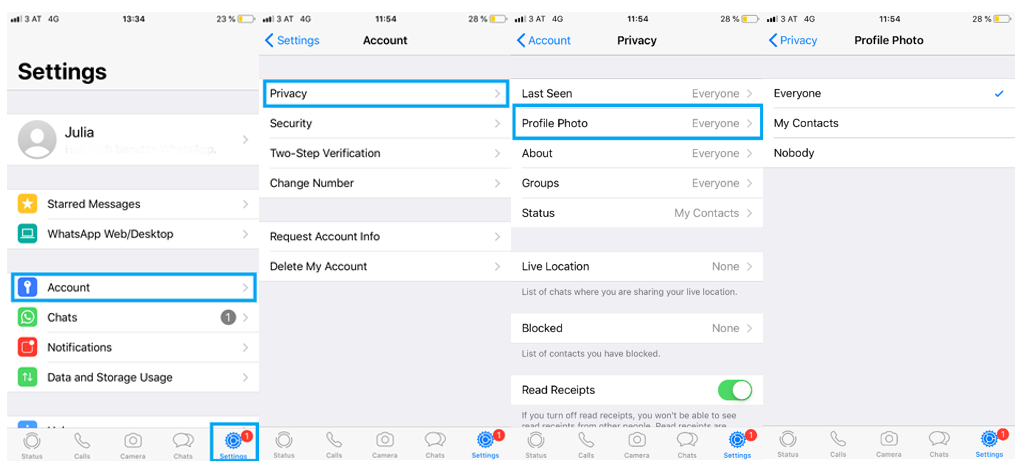 App providers are obliged to provide the user with a data protection declaration which contains information about the permissions requested by the app. In addition, most apps today require you to agree to these permissions when they are installed. You should read the privacy policy and the terms and conditions of each app critically before installing it. You should also control the access rights of apps! The granted permissions can be viewed and revoked at any time in the settings for each app.
Example
It's easy to understand that, for example, a weather app to display the weather forecast must be able to query your location to provide more accurate forecast information. Why this app might need access to your smartphone's camera, however, is no longer so obvious.
You should only enter the most necessary data. Use an extra e-mail address that doesn't reveal much about you and doesn't bother you when it comes to spam.
A supposedly big advantage of IM is that it is always immediately obvious when a contact is online or when it was last online. However, new privacy settings of some messengers offer you the opportunity to keep others from knowing that you are online, when you were last online or to turn off automatic read confirmations. How this works is demonstrated in the following by the example of WhatsApp:
How to hide "Last Seen": Open WhatsApp and tap on "Account". Then tap on "Privacy", select "Last Seen" and choose who or if someone can see when you were last online.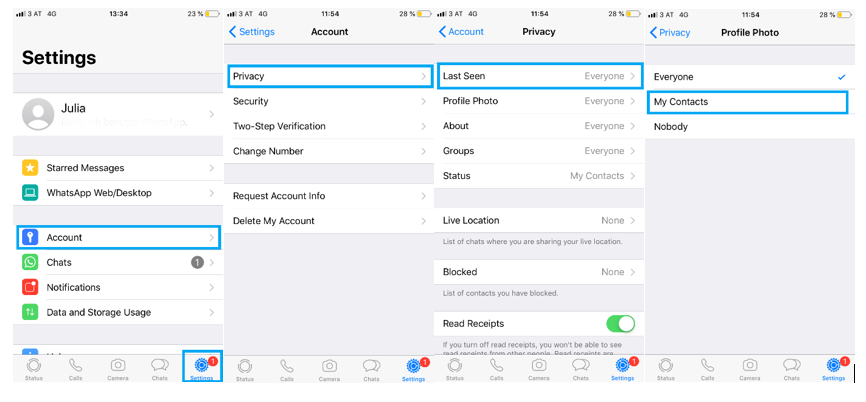 How to turn off read receipts: Tap again on "Settings", "Account" and "Privacy". Then simply deactivate the read confirmation.
In order to avoid contact by strangers, one should always consider carefully in the first place in which cases the mobile phone number should be given and, above all, to whom it should be communicated! If unwanted persons try to contact you via WhatsApp, you can simply block them. To do this, scroll down in "Privacy" and tap on blocked contacts.
Important
Block contacts if you're unsure who they are or if someone is harassing you. Report insults, sexual harassment, blackmail or threats to the police.
Some messenger apps, such as Facebook Messenger, do not automatically encrypt your messages. You should change the settings manually if possible.
How to communicate encrypted with Facebook Messenger: Go to the chat, tap the person's name and select "Secret conversation". Now the message exchange with this person is end-to-end encrypted. Nobody but you and your chat partner will see your messages, not even Facebook.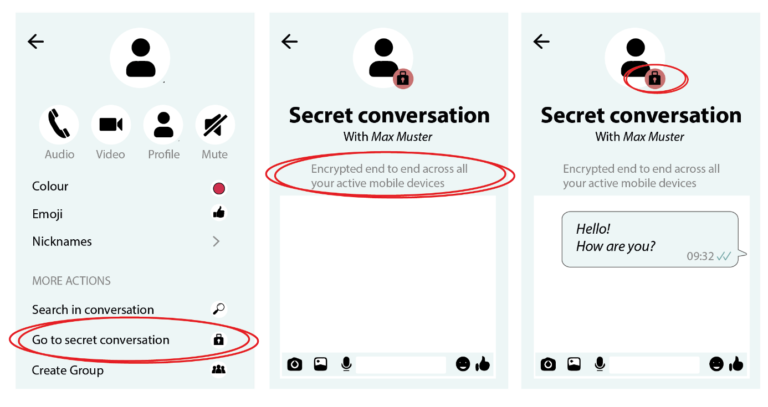 Tip
You can recognize an encrypted chat by the fact that the user interface is gray-black. You will also see a small black lock on your chat partner's profile picture.