Cyber crime is the flip side of cybersecurity — a huge spectrum of damaging and illegal activity carried out using computers and the Internet. This unit will help you understand cyber crime and how to defend you personally, your children and your organization against it.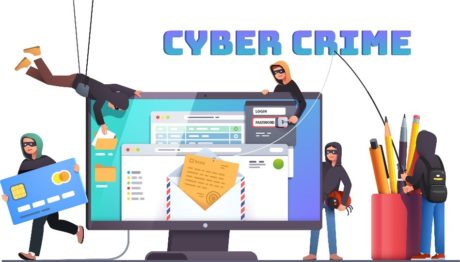 Most, but not all, cybercrime is committed by cybercriminals or hackers who want to make money. Cybercrime is carried out by individuals or organizations. Some cybercriminals are organized, use advanced techniques and are highly technically skilled. Others are novice hackers. Rarely, cybercrime aims to damage computers for reasons other than profit. These could be political or personal.
What does cybercrime mean? Cybercrime is defined as a crime in which a computer is the object of the crime (hacking, phishing, spamming) or is used as a tool to commit an offence (child pornography, hate crimes).
Here are some specific examples of the different types of cybercrime:
Email and internet fraud.
Identity fraud (where personal information is stolen and used).
Theft of financial or card payment data.
Theft and sale of corporate data.
Cyberextortion (demanding money to prevent a threatened attack).
Ransomware attacks (a type of cyberextortion).
Cryptojacking (where hackers mine cryptocurrency using resources they do not own).
Cyberespionage (where hackers access government or company data).
When speaking about cybercrime following the above mentioned examples, we usually speak about two major categories of offence:
a computer connected to a network is the target of the offence – this is the case of attacks on network confidentiality, integrity or availability.
an offence committed with the assistance of computers connected to a network and related information and communications technology – this is the case of the attacks such as theft, fraud, and forgery.
The following text is focused on offences committed with the assistance of computers.
The cybercrimes consist of various groups and categories. Types of cybercrime are used to describe criminal acts (such as phishing, etc.) and they are contained in the following categories.
This typology is focused on the object of legal protection: "offences against the confidentiality, integrity and availability of computer data and systems"; content-related offences; and copyright-related offences. The fourth category of "computer-related offences" does not focus on the object of legal protection, but on the method used to commit the crime. It can lead to some overlap between categories.
Categories of cybercrime

Let's now look at every single one of these categories:
Offences against the confidentiality, integrity and availability of computer data and systems
All offences in this category are directed against one of the three legal principles of confidentiality, integrity and availability.
Illegal access (hacking, cracking)
Illegal interception (the interception without right)
Data interference (inputting of malicious codes, for example, viruses)
System interference (inputting, transmitting, damaging, deleting, deteriorating, altering, or suppressing computer data, for example, viruses that stop or slow computer systems)
Example
In 2017, the WannaCry attack, allegedly launched by North Korea, unleashed a type of ransomware which not only locks down content on user devices, but also rapidly spreads itself. WannaCry infected 300,000 computers around the world, and users were asked to pay hundreds of dollars to decrypt and restore their data.
Computer-related offences
This category covers many offences that need a computer system to be committed. Unlike previous categories, these broad offences are often not as stringent in the protection of legal principles.
computer-related fraud
computer-related forgery
phishing
identity theft
misuse of devices
Example
In 2013-2016, Yahoo experienced a data breach which resulted in the theft of 3 billion user accounts. For some of these accounts, the attackers got hold of private information and passwords, which could be used to access user accounts in other online services. Much of this data is available today, either free or for a price, on the dark web.
Content-related offences
This category covers:
Erotic or pornographic material
child pornography
xenophobic material – racism, hate speech, a glorification of violence
insults related to religious symbols
Illegal gambling and online games
libel and false information
spam and related threats
The development of legal instruments to deal with this category is far more influenced by national approaches, which can take into account fundamental cultural and legal principles. For illegal content, value systems and legal systems differ extensively between societies.
Example
 A notorious paedophile (i.e., a person sexually aroused by a child), Matthew Falder, who was a UK academic with a PhD from Cambridge University, was charged in 2017 with over 137 offences committed against 46 individuals, which included intentionally encouraging rape and sexual activity with a child family member, inciting sexual exploitation of a child, and the possession and distribution of child pornography, among other offences (Dennison, 2018; Vernalls and McMenemy, 2018). He blackmailed his victims to commit humiliating, despicable, degrading and abusive acts against themselves (e.g., self-harming and licking a soiled toilet brush) and against others, and recorded these acts on images and videos (Davies, 2018; Dennison, 2018). He then shared the images and videos on hurt core sites (like Hurt 2 the Core, now defunct), which specialize in rape, murder, sadism, torture, and paedophilic content (McMenemy, 2018).
Copyright-related offences
Digitization has opened the door to new copyright violations. The most common copyright violations include the exchange of copyright-protected songs, files and software in file-sharing systems or through share hosting services and the circumvention of digital rights management (DRM) systems.This is the most often part of the cybercrime, generally tolerating by the whole society, but we should assume that this is the illeagal act with the possible consequence of incorrect behavior.
Example
The most often examples of  Copyright-related offences is using the illegal copy of software on your home computer or downloading the music or films from online public stores (f.e. ShareRapid, MegaRapid).