Over the years there has been a rapid growth in the domain of Internet of Things (IoT) in terms of technology as well as market growth. The networking of computers called as "Internet" revolutionized the way we share the information. The IoT can be considered as next revolution in how we perceive and share the information (Virat, 2018). In the box below you can access a simplified definition of IoT:
Definition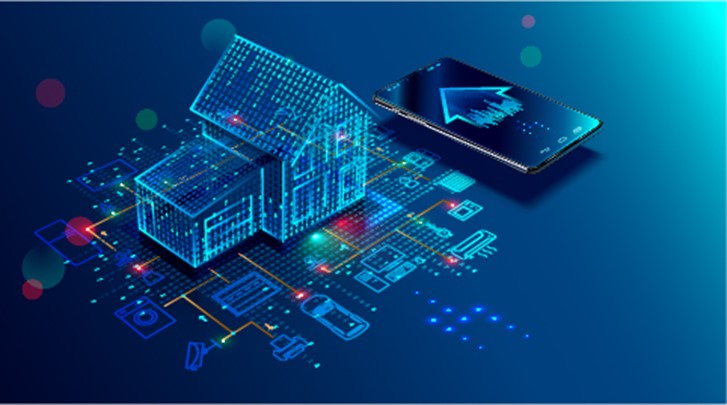 Internet of Things is the concept of connecting any device (so long as it has an on/off switch) to the Internet and to other connected devices. The IoT is a giant network of connected things and people – all of which collect and share data about the way they are used and about the environment around them.
Devices and objects with built-in sensors are connected to an Internet of Things platform, which integrates data from the different devices and applies analytics to share the most valuable information with applications built to address specific needs. In the figure below you can find two good examples of a IoT technology.
As we have seen before, the IoT is a broad term used to refer to the vast network of internet connected devices that exist today.
The Internet of Things promises to be the most important technological development for consumers since the advent of the smartphone. Experts believe that this technology will eventually generate more than $123 billion in annual revenue by 2021 and the statistics point out that there will be more than 36 billion devices connected to the internet by the end of 2020.
As a matter of fact, major companies, such as Amazon, Goole and Tesla are already working with software development services to produce cutting-edge IoT devices. The IoT is expected to make advanced smart homes a reality. More examples of IoT technologies include self-driving cars, wearable devices that track body markers, patient adherence to behavioural changes, voice assistants (Alexa for example), intelligent heating systems, etc.
Because of that, we can easily recognize that the overall society will be in touch with an IoT device at a certain point. Therefore, it is very important to improve the overall behaviour of citizens and their privacy/security.
The dynamics, intelligence and mobility of IoT make it a high demand technology but also make the IoT vulnerable and risky under security and privacy terms. To understand the complexity of this challenge, you need to comprehend the basic architecture of IoT, characterized by a dynamic structure. The number of layers that composes the architecture of IoT diverges immensely between experts, but all of them agree that IoT is composed by at least four layers: Perception, Network, Processing and Application.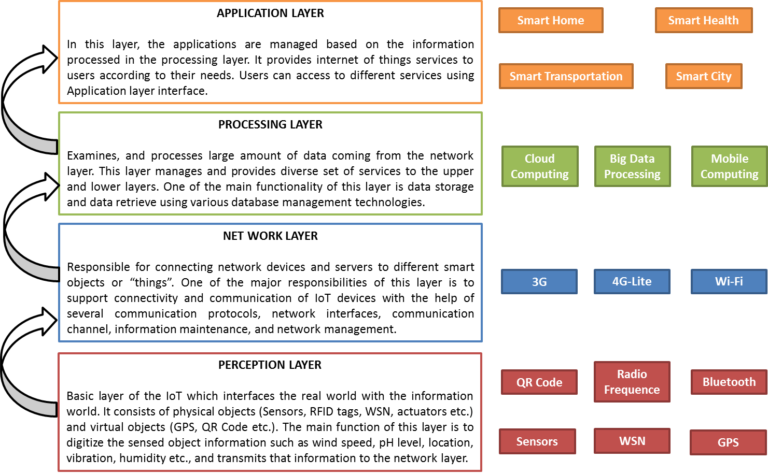 As you can notice, the Application Layer facilitates the global management of the smart applications and provides specific services to the user. In the next table the Top Applications of IoT in day-to-day life are presented:
| | |
| --- | --- |
| Smart Home | It is an interconnected home where all types of things interact with each other via the Internet.  For example, in a smart home you can switch on air conditioning on your way home or you can activate the washing machine while you are at work. Essentially, everything is interconnected to make your life simpler and convenient. |
| Wearables | These devices (such as Fit Bit) collect data and information about the user that is later pre-processed to extract essential insights. These small, highly efficient gadgets broadly cover fitness, health and entertainment requirements. |
| Smart/Connected Cars | A smart vehicle which is able to optimize its own operation, maintenance as well as comfort of passengers. These vehicles are being used in smart transportation – that includes waterways, railways, roadways, etc. – receiving real time information about roads, accidents, road diversions and closures, in a way that provides the maximum safety to the driver and passengers |
| Smart Cities | It involves everything that composes a city, like surveillance, transportation, energy management systems, water distribution, urban security and environmental monitoring. For example, the government can automatically be informed about measured pollution levels or shortage of energy supplies, etc. |
| Smart Agriculture | Farmers are using meaningful insights from the data to yield better return on investment. Sensing for soil moisture and nutrients, controlling water usage for plant growth and determining custom fertilizer are some simple uses of IoT |
| Power Management | Power grids of the future will not only be smart enough but also highly reliable. In smart power grids, the usage of smart meters, home gateways, smart plugs and connected appliances helps in conserving resources and save money for consumers, manufacturers and utility providers. |
| Smart Healthcare | A connected healthcare system and smart medical devices represents a revolution for society, as it has significant impact not just for companies, but also for the well-being of people in general. The application of IoT in healthcare domain, includes obtaining information about health parameters of an individual like blood pressure, body temperature, heart beat measurements etc through ultra-low powered, highly energy efficient and small-sized wearable devices. This information collected can be shared with the respective individuals, and health care centres for further action by doctors. |